Hillary Peterson on the Healing Power of Plants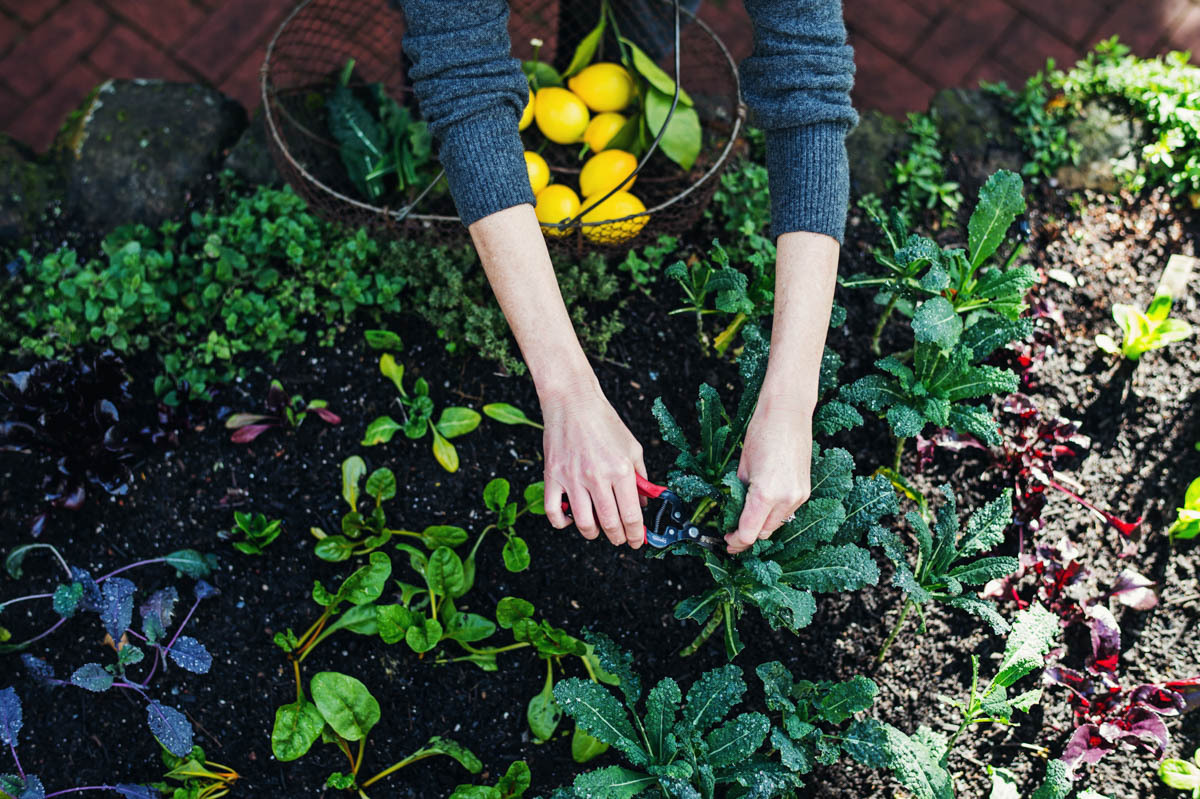 The last time we were in Mill Valley, we took a tour of Christina Mace-Turner's home, Hillary Peterson's business partner and neighbor. Hillary is the founder of True Botanicals, the Bay Area-based company that, in true Silicon Valley form, is "disrupting" the industry, but in this case, that industry is skincare. Hillary is dedicated to educating consumers on the toxins lurking in our everyday products and set out to offer a safe, natural, nourishing alternative. Every product is Made Safe Certified, plant-derived and developed with special attention to the soothing properties of aromatherapy. Once you step into her home garden, it's clear to see the skincare vanguard is a holistic horticulturist: her garden boasts many of the same plants found in her company's signature products. Besides her well-pruned citrus trees, seasonal vegetables, blooming florals and aromatic herbs, what makes her garden a truly peaceful enclave is the enviable outdoor bathtub, fully stocked with True Botanicals bath and body products—naturally! XXJKE
Rip & Tan: Were you always interested in natural beauty? What inspired you to start your own company?
Hillary Peterson: I have always been interested in healthy living. Post thyroid cancer, I became aware of the abundance of toxins in our everyday products. This is when I realized that using clean products is an important part of supporting wellness. An amazing bonus for me was that I was able to clear a lifetime of bumpy blemish-prone skin with our nutritive products.
Rip & Tan: What was the process in developing your first products? How hands-on were you in the research and development of natural ingredients?  
HP: I have been very involved in developing all of the products and I have the benefit of working with leading dermatologists, estheticians, and scientists along the way to inform our decisions.  I love the process because it involves tapping into ancient healing wisdom and modern science, both of which fascinate me. And the most inspiring part of the process is being reminded every day how powerful nature is. One of my favorite examples is helichrysum, a potent anti-inflammatory, anti-bacterial and overall healing ingredient. Our aromatherapist advisor once told me if you put it on a cut, it will stop the bleeding and promote rapid healing.  I kept a small bottle in my kitchen knowing that eventually I would have an opportunity to try it and it worked!  No Band-Aid needed.  
Rip & Tan: Since starting True Botanicals, what achievements or milestones are you most proud of?  
HP: I would have to say that pulling together a passionate group of like-minded people (mostly women) to share this journey and change our industry is what I am most proud of. We are building something positive and loving our time at work together. That is so rewarding.
Rip & Tan: The world of skincare can be a daunting field for the uninitiated. Do you have any tips for those who want to switch to a natural skincare routine or are looking to be more educated on their everyday products?  
HP: I really feel that focusing on the quality—not quantity—of products that you put on your skin is the way to go. A simple nourishing routine can become an enjoyable ritual and yield remarkable results. Starting with just the right face oil to moisturize your skin morning and night can be transformative. With regard to what to watch out for we have a list of ten toxic ingredients to avoid, which will help simplify your search. Our research has shown that if a brand is using any of those ten, there are likely other harmful ingredients in the products as well.
Rip & Tan: Besides skincare, how else do you pursue all-natural living? Are there any household products you swear by, do you have a specific diet you adhere to?  
HP: I try to buy as many fresh, whole ingredients at the store as I can, avoiding processed food wherever possible.  My philosophy about skincare and feeding my family are the same: nothing is more healing or nourishing than ingredients in their natural form.  And since it is scientifically proven that fresher food is significantly more nourishing, I try to buy as much local produce as I can. One of my favorite weekend rituals is going to the farmers market with my daughter. I also love to fill my dinner table with freshly picked ingredients from my garden. With regard to cleaning products, I make my own using a variety of combinations of white vinegar, tea tree oil and castile soap.
Rip & Tan: Tell us about your neighborhood. How long have you lived here, and how did you know this house was right for you?  
HP: When we first saw this house, my husband and I both felt that it was so warm, cozy and inviting.  We both wanted to live in a welcoming family home and we knew right away that this was the place.  Our kids love to invite friends over and sit by the fire with us for a meal- there really is nothing better than that. I could not love our neighborhood more. The houses surrounding us have porches and we all to get together and "porch".  When I was at a spa in the south, one of the estheticians that I was working with told me that in the south, porch is a verb.  I loved that.  We porch most days with a cup of coffee or tea or an evening cocktail, which usually contains lemon or lime juice from our garden. 
Rip & Tan: Have you always been interested in botany? What or who sparked your interest?  
HP: Growing up in Pasadena, we had a gardener named Bernhard and I used to love to sit outside and watch him tend to our yard. And some of my favorite childhood memories are of working in the vegetable garden with my family. In the summer, we would plant a huge vegetable garden. Now all of my sisters and I have our own vegetable gardens. We text each other pictures of them throughout the year.  Through my involvement in the skincare industry, I have developed a deep appreciation for the healing power of plants. It didn't take long for me to become hooked.  
Rip & Tan: What is the climate in the Bay Area like, and how does it influence to what you choose to plant in your garden?  
HP: The climate is moderate and great for year-round gardening.  Our house has a southern exposure so we do very well with all of the things that I love: citrus trees, tomatoes in the summer, squash… a lot of what we grew in southern California when I was young.  
Rip & Tan: Your garden is so peaceful! Aside from foraging your greens, how do you like to relax and enjoy your backyard surroundings?
HP: I love to meditate in the yard, listening to the birds, and it always makes me happy to pick flowers for the house. We planted our yard with scent in mind so I often walk around sniffing what the season has to offer. We have all of my favorite scents and they are spread out over the seasons, so there is always a beautiful scent to bring into our home. My favorites are Daphne in the winter, lilac in the spring, rose in the summer ("Jude the Obscure" is the most beautiful and amazing smelling apricot rose) and Meyer lemon blossom in the fall. These scents constantly remind me that True Botanicals' products should smell subtle and fresh, just like being in nature.
Rip & Tan: You've mentioned your admiration for Alice Waters of Chez Panisse. How has her work influenced your own?
HP: I have read several articles about her and I feel that she gave me permission early on to have insanely high standards for everything that True Botanicals does. Her attention to detail is what makes her meals exceptional.  I think that the same is true for our products. I am incredibly lucky to work with Trinina Hebert on product development and quality control. She shares my passion for keeping an eye on every detail and has a lot to do with how our products are consistently beautiful. 
Rip & Tan: We are so envious of your beautiful outdoor shower and bathtub! What are your favorite bath products, and what are the benefits of bathing outdoors?  
HP: Thank you!  I love it too and it is fun to see how much our friends and kids enjoy using it.  We have it fully stocked with True Botanicals Hair and Body products. Using them in beautiful natural surroundings reminds me that taking care of my body should feel like a luxury, not a chore. 
Rip & Tan: Do you have any tips for someone who is interested in building a home garden, but doesn't know where to start?  
HP: I think that it is ideal to start with herbs because they are so low maintenance and hearty.  I love to cook with herbs, especially when making salad dressings and bone broths.  And if you have enough sun, citrus trees are so great to have around. We use our lemons and limes for salads, "spa water" and cocktails. Kale is another hearty and prolific plant that I would start with. It is easy to grow, and the enjoyment that its nutrient-rich leaves bring is sure to inspire a deeper dive into gardening. That is what happened to me.   
Rip & Tan: Are there any books or blogs you reference for gardening tips?  
HP: I love Gardenista and I also spend a lot of time studying aromatherapy. I am actually in the process of completing my aromatherapy certification, which inspires what I plant in the garden. Jasmine, for instance has been shown in studies to be more relaxing than valium. And bergamot and lemon oils have been shown to have a positive effect on mood.  No need to buy a bottle of something when you can pick a flower or scratch a rind and inhale. I have found that aromatherapy is an addictive topic. True Botanicals' advisor, Kurt Schnaubelt, has written several informative books on aromatherapy; The Healing Intelligence of Essential Oils: The Science of Advanced Aromatherapy is one of my favorites.  
Rip & Tan: Do you have any favorite gardening stores in Mill Valley?
HP: Green Jeans nursery is great and I love to head over to The Gardener in Berkeley for my gardening accessories.