Graphic Design Team - I made everything look better, including cool T-Shirts. Student at Contra Costa College in California. Graduating in 2023.
Alexa Skills Team - I worked on developing Alexa Skills to aid senior care, this included investigating Alexa Conversations (beta), a new feature that enhances conversational experiences using AI. I am a third-year MSci Physics student currently studying at Imperial College London, graduating in 2022.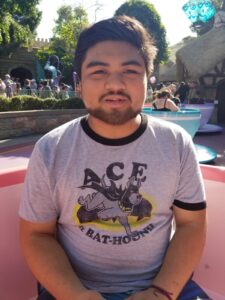 Alexa Skills Team - I developed spooky conversational intelligence for Seniors using Alexa voice. A third-year engineering student at the University of California at Santa Cruz. Graduating in 2022.
Biometrics IoT Team - I built the surveillance software allowing devices to probe for elderly heart rate and movement data wirelessly over Bluetooth LE signals. I'm a fourth-year student studying computer science at the University of California San Diego, graduating in 2021. Outside of work, I enjoy walks with my dog, late-night scary movies, and drinking boba until it's sunrise!
Abnormal Fluid Flow Detection team - My team used machine learning to identify abnormalities in water flow. Outside of machine learning, I am a second-year computing student at Imperial College London. I am interested in financial technology and open banking.
Family Circle Team -I was fortunate to work on multiple projects this summer: researching senior-centred improvements to current voice recognition systems with Mr Ramos; re-designing the UI/UX of kin-keepers.ai with the Family Circle team (supervised by Mr Abdulmalik); filtering acceleration and gyration data from an Arduino and using them for anomaly detection with the IoT Integration team (supervised by Mr Jimenez). I'd like to thank all of my teammates and my supervisors for their continuous support, insight, and for showing me what I don't know. I'm a final year Mechanical Engineering student at Imperial College London graduating in 2021, always looking to learn something new.
Flow Detection Team - I  worked on the IoT side of the flow detection project. I designed a circuit and a PCB that would be used in the final demo. I programmed a microcontroller to read from a flow sensor and send the readings via Bluetooth.  I am a French student, living in London since 2012.  I study at UCL in Electronic engineering and I'm about to start my 2nd year.
Biometrics IoT Team - I worked on movement detection using an Arduino Nano, which involved me exploring Bluetooth LE and creating an API to detect 'significant movements'. As a further application, I used the movement data to detect when someone has fallen using machine learning, which is quite a serious issue for the elderly! I'm a second-year Computing student at Imperial College London. Outside of work, I love playing and watching football, stock investing and travelling!
Mercado eCommerce Team - I worked on the eCommerce website development for Kin-Keepers which included API testing and catalog arrangement. My name is Jimmy and I am an entering senior at the University of Santa Cruz with a major in Computer Science.
Enclosure team - I created a variety of concepts for the PET enclosure, the outer casing that seniors will see and interact with. One of these was then chosen which I developed using CAD so it could be 3D printed. Then I designed the 'Robots with Soul' element to bring the Guardian Pet alive. I'm a third-year aerospace engineering student at Imperial College London, graduating in 2022. Outside of engineering and robotics, I love rock climbing, long-distance cycling, and sailing.
Family Circle Team - I worked on the Family Circle Team, mainly on the back end side which includes creating databases, a real-time backend framework, and real-time communications using the latest cutting edge technology. I was also given the chance to help other teams with quirky software and bug fixes. I am a first-year Computer Science student in Pennsylvania, focusing on backend/low-level programming and real-time networking.
Flow Detection Team - I worked on creating software and hardware simulations of typical household water flow, so that we could collect data to train a machine learning engine. This consisted in writing computer software, which was eventually ported to a microcontroller for a hardware demo, as well as PCB design to connect the hardware. Hailing from Spain, I am currently a second-year student at UCL, studying Electrical and Electronic Engineering.
Mercado eCommerce Team - During the summer I worked on developing the Mercado site. I added cool features from AgeTech startups, that subsequently could be summoned with a voice query The work exposed me to Graph databases. My name is Will and I am entering my senior year at UCSC pursuing a BS in Computer Science. In my free time, when I am not a full-time student, I like to play basketball and video games.
Machine Learning Synthetic Data Team - Experienced Researcher with a demonstrated history of working in the Data Science and Machine Learning industries. Strong research professional with a Bachelor of Science in Computer Engineering. Worked on different projects like Smart Traffic System, Crop Disease Detection, etc. LIves and works in Rwanda. (https://www.linkedin.com/in/murindanyi-sudi-aa8793150/).