The

Problem
There are 12 million adults in the U.S. living without a spouse or partner. Many are single by choice, others are widowed, or divorced. They may be childless or, not in touch with their children or other family members. Among elders older than 75, loneliness happens by way of;
Aging in Place

- 44% are women living alone.
Moreover, according to a study published by the National Academies of Sciences, Engineering, and Medicine in 2020, as many as 43 percent of all adults aged sixty and older in the United States report feeling lonely—and these are the pre-pandemic numbers.
The Challenge
Getting others involved. Extended elderhood is as new to the world as childhood. In centuries past, neither existed. Modern elderhood has ushered in a pandemic of loneliness. Our notions of independence and self-reliance that served us well in youth, break down as friends and relatives pass away. Distant and busy families find few ways to engage parents living alone and in depression. Moreover, loneliness is made worse as cognitive decline, impedes elders' ability to make themselves understood.
Seeing Aging as not a pathology. The brain's hippocampus shrinks 2% per decade as we age. And the Brain Shrinks by Five Percent Beginning at 45.
Forgetfulness is normal; it is Gerotranscendent. 3.

People with Dementia are not on a long goodbye; they are here. To be sure, Dementia is a shift in the way a person experiences the world around her/him, but they are still here and they still feel.

So why not help loved ones, not by pushing them away into institutions but by rejoining them to the Family Circle? Once reconnected, elders have fewer frustrations, anxiety, and anger. Their emotions improve, and with that, their behavior.
Are you lonely? Take this short online test to find out where you fall on the UCLA loneliness scale.
The Solution = Elder-ChatGPT
Kin-Keepers solve the problems in Nursing Homes that start when elders say "I want to go home." It takes a psycho-social approach to create family-initiated therapies avoiding psychotic medications or expensive behavioral therapists. Finding a way to understand elders living with even incurable impairments like Alzheimer's, or other forms of Dementia, is key to reducing anger, frustration, and the rising cost of long-term care. Yet, how can this be done when memories fade and identity erosion sets in? The key is to use family-initiated therapies. Aided by artificial intelligence (AI) a communication channel is uncovered based not on fleeting awareness of names or events, but on the enduring emotions, humans carry with them until death.
A psycho-social intervention starts with Family-originated news--- a daily briefing that keeps the older adult informed and connected. Once established, these private Family Circles then move on to psycho-social remedies--- gentle interventions such as reminiscence, music, pictures, prayer, and even scents. For the seniors, participation only requires a voice assistant, which evolves with the help of AI/Machine Learning & Predictive Analytics into an adaptive Smart Parrot. The AI Parrot becomes an assistive self that serves both families and elders. For the family, this tool helps comprehend and translate elders' confused or misused utterances. For the seniors, it is a voice translator that makes them feel more calm, secure, and intimately understood. There's more. As elders speak, an Alexa device listens and alerts families to their loved one's loneliness, neglect, abuse, or just plain sadness.
Why it works
Loneliness is not solved alone. It requires rejoining elders with families, even if from far away. Family participation in the Kin-Keepers solution is flexible; done asynchronously, when possible, and from afar if needed.
The Solution works for:
families limited by physical distance or economic challenges and unable to visit their elder loved one as often as they would like;
families too busy and overwhelmed by their jobs and personal affairs with spouses, children, and grandchildren;
families limited by their own illnesses or disabilities or caring for another like a spouse/partner in that position;
people suffering as part of an emotionally fragmented family.
It all works because the activity is guided by an awareness of true intimacy: the reflection of self-worth an elder experiences in another;
sees in another's eyes,
feels in another's voice,
reads in another's letter,
or senses in another's touch.
Our devices run on popular voice assistant platforms like Amazon Echo, Google Home, Apple HomePod, Baidu, and MyCroft. Moreover, it uses any language available on these devices.
Try it out
Become the Kin-Keeper for your loved one by starting a Family Circle database. Only invited friends and relatives can add data. But then all this information is available to the elder via an inexpensive Amazon Echo Dot. Mom can now start the day listening to a Flash Briefing of Family events, and dates, or just keeping up with what is going on. Elders living alone or in institutions don't use computers, join chats, and have no way to cope with rapidly changing times.
Then download and enable our demo voice app on your Amazon Echo device.
Download an Example.
Family Circle (Enablement)
GO HERE
Proceed to log in on your phone with your Amazon Echo account.
Say to your Alexa device:
Start or Open Family Circle
Now Ask
What is this all about?
Whose family?
How many grandchildren do they have?
Who is my oldest Grandson?
Who is my youngest grandchild?
What are the names of my grandchildren?
When is Grayson's birthday?
How old will Grayson be?
The Significance
People with dementia experience significantly higher costs of care compared to those without cognitive impairment, and the burden of those higher costs falls disproportionately on families who do not meet the standards for aid. There are over 6.2 million people living with Alzheimer's in the U.S.  Of those,  only 1.1 million live in facilities paid for through Medicaid, at an annual cost of $72 billion. That leaves 83% of older adult care in the United States to family members, friends, or other unpaid caregivers.
There's more. Today, more than one in five Americans (21.3 percent) are caregivers, defined as having provided care to an adult or a child with special needs at some time in the past 12 months. This totals an estimated 53.0 million adults in the United States, up from the estimated 43.5 million caregivers in 2015. The Caregiving in the US 2020. 4. report issued by AARP and the Nationa.l Alliance for Caregiving highlights that nearly 48 million unpaid caregivers are caring for someone over the age of 18.
Sadly, "Family caregivers are interfacing with a fundamentally broken and disintegrated governmental system that is central to the financing of a lot of the care delivery system."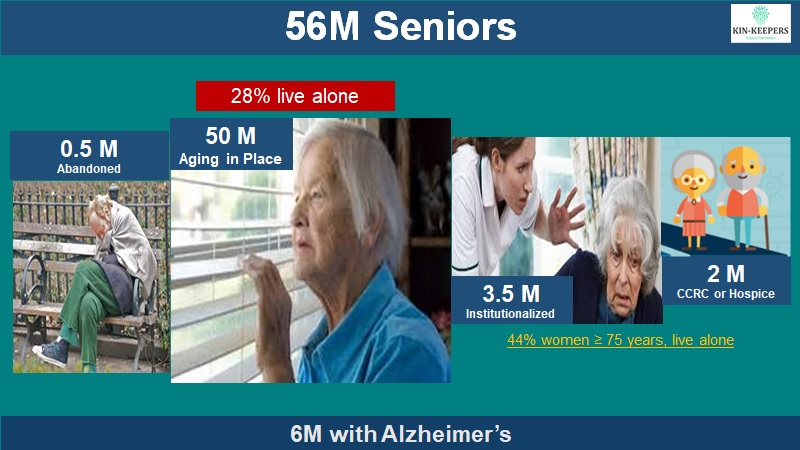 The number of people ages 65 and older in the United States has increased steadily during the past century. Growth has accelerated since 2011 when baby boomers first started to turn 65. Between 2020 and 2060, the number of older adults is projected to increase by 69 percent, from 56.0 million to 94.7 million. The number of people ages 85 and older is projected to nearly triple from 6.7 million in 2020 to 19.0 million by 2060.
There's more. In 2020, for the first time in human history, elderlies outnumbered children. The number is projected to grow by 40% before 2030 up to 1.4 Billion. Among them, many are living lonely far away from their children, and are suffering from a shortage of healthcare professionals.