Flash update on COVID-19.
See Johns Hopkins Dashboard

here.
Trusted Summary

(released every Friday)

an up-to-the-moment science-based picture of the pandemic from epidemiology and clinical perspectives here.
For many of us, this may be the first time in our lives that we have felt so little control over our own destiny and the destiny of those we love.  This lack of control initially feels like a loss, a humiliation, a stepping backward, an undesired vulnerability. However, recognizing our lack of control is a universal starting point for a serious spiritual walk towards wisdom and truth. Now is a good time to reflect on how we think too much but feel too little.
"More than machinery, we need humanity. More than cleverness, we need kindness and gentleness. Without these qualities, life will be violent and all will be lost… In the seventeenth chapter of St. Luke it is written the kingdom of God is within man; not one man nor a group of men, but in all men!"
– Charlie Chaplin
How?
What we believe
Ageism diminishes Senior stories.
That aging care must involve a trio of actors, Seniors, Providers, and Family or private Caregivers (aka Carers) -

with a Kin-Keepers Team

.
That what seniors need is not a brilliant mind that speaks, but a special heart that listens.
That Seniors must be given a voice to be understood; not always to be obeyed but always to be heard.
That the answer needs more than medicine and technology; it needs a cultural change.
Understanding others is key to successful cooperation. One in three Americans, ages 65 to 74, have hearing loss and half of those over age 75 have difficulty hearing, according to the National Institute on Deafness and Other Communication Disorders. Not only can they not hear you, but elders' communicative goals also change as they age. They have more to reflect on, and more to impart. Logic and reasoning give way to expressive feelings. As we grow we value sharing experience over brevity and economy. We value being needed more than cared for. As such, the problem of being understood may not lie with the speaker, but the listener.
What lives at the soul of care is moral joy; a form of loving communication that does not tire. You will do everything you can for another because they mean so much to you. But it is also problematic because we all have complex relationships and we've got other things going on in our lives.  Often this leads to conflict and frustration. This is made worse by not understanding what aging minds are saying, not knowing what they need, and by carers trying to figure all this out, first time, alone.
What we are
Kin-Keepers improves the dialog by providing a forum for the Kin-Keepers Team to:
Improve the Quality of Life for Seniors
Improve the Quality of Work for Carers
Improve the communication for all in the Kin-Keepers Team
Address affordable Long-Term Care for elders
Not as a champion to what is best. We take no responsibility for what the forum produces, but we do monitor its choices and expose those ideas to the world.
What we do
All our offerings are geared towards:
Senior Expression:
Giving Seniors an evolving voice through the means of an AI Guardian PET.
Capturing the consensus of the Kin-Keeping Team and then using that agreement to explore product/service selections.
Measuring the outcome of those selections by way of the opinions of the actors as the Kin-Keepers Team iterates forward to find an optimum solution.
Comparing the outcomes of diverse Kin-Keepers Teams from around the world
Group e-Commerce:
Providing APIs for any vendor that cares to offer a solution to stated needs.
Making the selection of solutions easy for the Kin-Keeping Team.
Being at the center of e-commerce that emanates from those choices.
Ensuring that Seniors are not left alone in their choices.
Finally, validating product traction with elders, for investors.
We give them a Trusted Friend with...
An augmented intelligence approach  -  AI machine-learning products are automated systems that collect and learn from data to make user-facing decisions. Pragmatically, ML is the part of AI that works. It uses statistical techniques to give computer systems the ability to "learn" by being trained on existing data. After training, the system can make predictions (or deliver other results) based on data it hasn't seen before. ML systems are not all the same. They vary, and their output depends entirely on how the model was trained. It's hard to tell whether the biggest model improvement will come from better neural network design, input features, or training data.  We use AI - ML senior population datasets exclusively for training our models on Kin-Keepers.com and Kin-Keepers.ai
Seniors get an Alter-ego. We bring AI / Machine Learning & Predictive Analytics close to elders in the form of adaptive, Guardian Pets, which are virtual AI PETs. Among other things, they listen remotely and alert families to loneliness, abuse, neglect, or fraud.
Moreover, we use two AI PET brains. One for adaptation, the other for adoption.  The adaptation uses conventional Machine Learning, which aspires to listen, learn, and predict. Our adoptive brain is more esoteric. It employs Enchantment technologies, that create endearment with seniors. Techniques come from MIT and Cornell.
At Kin-Keepers.com we concentrate on restoring a Senior's declining voice with its carers while reducing the stress of caregiving. That newfound voice enables the usage and adoption of tools that strengthen extended family bonds and catalyze implementations of the latest techniques for seniors.
With our aids, caring friends and relatives discover how to share and enjoy care.  To make that happen we focus on just two things:
Mechanizing Physical Care and
Managing Behavioral-Emotional Communications.
Over time, our PETs learn to anticipate the physical and emotional needs of their masters. Guardians then use this knowledge to drive IoT devices that reduce the labor-intensive quality of senior care. The Kin-Keepers Team chooses from ever-expanding shared catalogs that make physical support affordable and sometimes even free from governments.
Our PETs also deal with emotions and the worries that accompany cognitive decline. Guardian Pets act as go-betweens seniors and relatives, minimizing misunderstandings, frustrations, and anger.
Our offerings assist institutional care from Skilled Nursing Facilities (Nursing Homes) to high-end Continuous Care Retirement Communities. 
However, if you cannot afford outside care, our solutions also make it possible to live and socialize with Family and Friends Living only on Retirement Savings (F.L.O.O.R.S.) - in affordable Multi-Generational Dwellings or in Dementia Villages. These are Smart Homes provisioned with Americans with Disabilities Act-compliant features that enable senior independence while minimizing labor-intensive carer duties. To be sure, they require investment but far less than needed for institutional care. So if you can't afford the rent of institutional third party care, don't despair. You can own and pass on to your descendants what improvements you make to Family dwellings.
All our work is delivered through a free Virtual AI Guardian PET.  The companion mascot serves as an interface that initially helps the elderly with memory and with home device(s) activation. In time AI PETs come to know their masters well, but respect privacy by storing all information on their local home laptop. The AI PET first listens then anticipates, then guides.
How we engage
Open Senior care assessments - called SLEDS
We start with a baseline that establishes needs. We use the nationally agreed standard among Geriatricians and Gerontologists known as S.L.E.D.S.  - Sleep, Learning, Exercise, Diet, Stress.  Once reports are prepared, the Kin-Keepers Crew moves to improve matters, from a worldwide catalog of solutions and services. Once solutions are implemented, we capture outcomes with another assessment and store results in our shared catalog.
There's hope: 
As the Silver Tsunami of Elders arrives ... it is being met with a Cambrian like explosion of Senior Care Devices.
All around the world, the largest emerging industry is aging care. It is ushering in an explosion of products and services that meet the needs of elders and their carers. Most are inexpensive and even some, paid for by your government.
Consumers over 60 will have trillions of dollars in spending power. $8 trillion in the U.S. alone. But how will they make choices? Who will decide for them?  How will they not be robbed? Can you dedicate all your time to their shadow?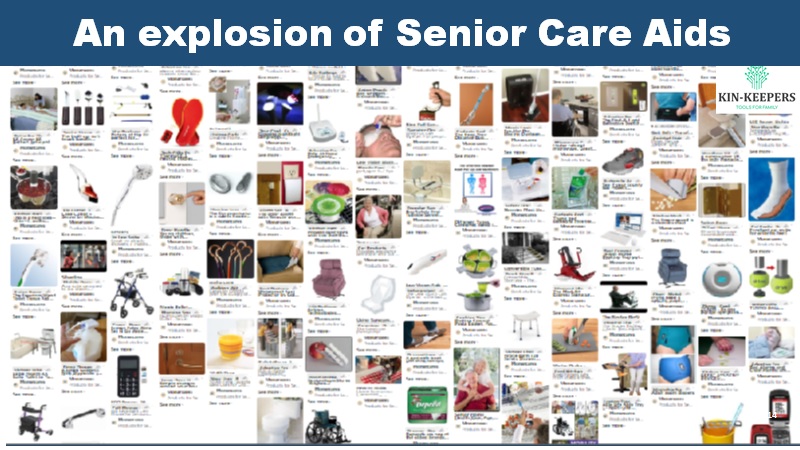 What is needed is a Trusted Friend to help navigate and choose from an ever-changing and confusing world.
Why now? 
We're living longer, and we're having fewer babies.
A veil of ignorance covers the eyes of most folk as they become a primary family caregiver.  And yet, caring for someone with a serious illness stretches people physically, spiritually, and emotionally, often beyond what they might have thought possible. At this moment in time, it will get worse before it gets better. Here's why.
It's 2020, the global population of people over 60 years of age has reached 1 billion. But by 2050, it is expected to reach 2 billion. Combined with a general decline in birth rates, we face a situation where the world's old is starting to outnumber the young.
With a forecasted shortage of 450,000 care-givers, physicians, and Long Term Care facilities by 2024, it will be up to you. Can you handle it?
You are not alone
Major centers of research at Berkeley, MIT, Brown, Stanford, Columbia, Boston University, and Harvard are exploring non-invasive interventions that soon will confirm what the public suspects: that ancient ways of caring for parents can supplement and even precede pharmaceuticals.  That's because Aging care is not only about medicines; it's about Culture. But who listens to those regarded as senile? 
If you are committed to a parent or loved one, Kin-Keepers can help.  Study our offerings, view our videos, download our blueprints. Get involved, if not for Mom or Dad, do it so that your children will learn how to care for You!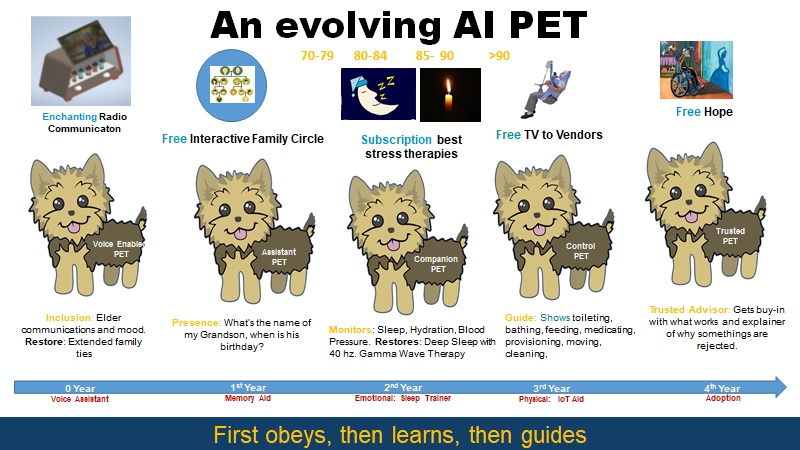 A peek at our progress
A Common Situational View
Our downloadable software allows you to share a common understanding among Seniors, Carers, and Families so that attention is focused on the right needs, at the right time. Click below to see our 3-minute walk-through.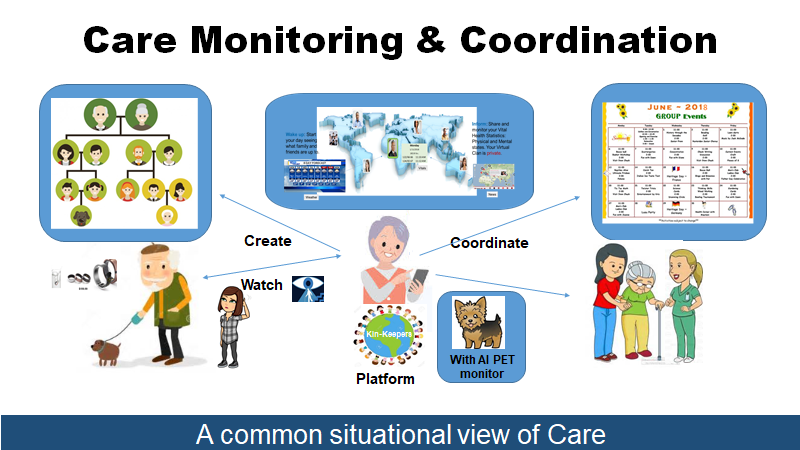 Next Steps...
Learn how it all hangs together by watching our 3 minute video.