The

Challenge
Until there is a cure - Use what elders still have
Finding a way to understand elders living with incurable cognitive declines like Alzheimer's, or other forms of Dementia, is key to reducing anger, frustration, and the rising cost of long-term care. Yet, how can this be done when memories fade and identity erosion sets in? The key is to use artificial intelligence to uncover a communication channel based not on fleeting memories, but on the enduring emotions, humans carry with them until death.
The Solution
An augmented intelligence approach 
Seniors get an Alter-ego. We bring AI / Machine Learning & Predictive Analytics close to elders in the form of adaptive, Smart Parrot Pets. These Assistive Selves make intelligible what seniors struggle to say. Additionally, the Assistive Selves listen remotely and alert families to loneliness, abuse, neglect, or just plain sadness.
Smart Parrots are Adaptive. Over time, our Assistive Self Parrots learn to anticipate the physical and emotional needs of their owners. Parrots then use this knowledge to drive IoT devices that reduce the labor-intensive quality of senior care.
Our Pets also deal with emotions and the worries that accompany cognitive decline. Our emotional approach involves non-pharmacologic therapies: things like music, sleep assistance with light or sound, and cognitive-behavioral training. With family support, we also make possible reminiscences to stir memories - all aimed at improving the Quality of Life for the afflicted.
We work with elders, not for them. Our offerings assist institutional care from Skilled Nursing Facilities (Nursing Homes) to high-end Continuous Care Retirement Communities. Or better still, in Hogeweyk, the Netherlands like Dementia Villages.  
However, if you cannot afford outside care, there is hope in the recently announced bill for Home and Community-Based Services (HCBS option under Medicaid). If you have no option but to care for a loved one at home, there is a way. You can learn the Person-Centered Care approach and follow Habilitation best practices.
Our solutions make it possible to live and socialize with Family and Friends Living only on Retirement Savings (F.L.O.O.R.S.) - in affordable Multi-Generational Family Dwellings (coming under the Biden Senior Care Act).
These are Smart Homes provisioned with Americans with Disabilities Act-compliant features that enable senior independence while minimizing labor-intensive carer duties. To be sure, they require investment but far less than needed for institutional care. So if you can't afford the rent of institutional third-party care, don't despair. You can own and pass on to your descendants what improvements you make to Family dwellings.
The Significance
Before the final years of life for those with Alzheimer's Disease (AD) dementia, there comes a time, often measured in years, where communication is still possible, but with difficulty. During these years, cognitive impairment leaves the sufferer searching for words. They speak with clues, intelligible to family or friends who perceive the intent. "I want to go to that place we go on Sunday", gets interpreted as "I want to go to Church." Being understood is crucial to reducing confusion, frustration, and despair. However, when elders with dementia are placed into long-term care facilities, where staff turnover is often high, the ability to be understood is lost. What then sets in is gradual identity erosion and loss of self-esteem for the senior, which compounds the confusion, frustration, and anger. This often erroneously confirms to relatives that elders are hopelessly lost and can no longer remain at home. Tragically, this contributes to an acceleration of cognitive decline. People with dementia experience significantly higher costs of care compared to those without cognitive impairment, and the burden of those higher costs falls disproportionately on families who do not meet the standards for aid. There are over 6.2 million people living with Alzheimer's in the U.S.  Of those,  only 1.1 million live in facilities paid for through Medicaid, at an annual cost of $72 billion. That leaves 83% of older adult care in the United States to family members, friends, or other unpaid caregivers.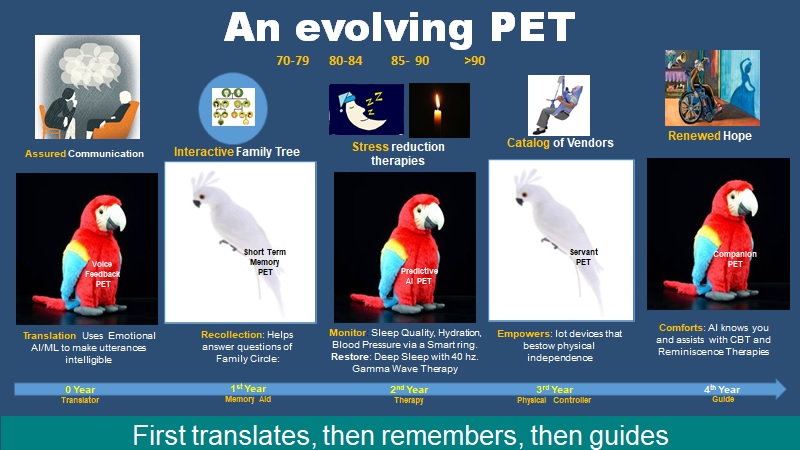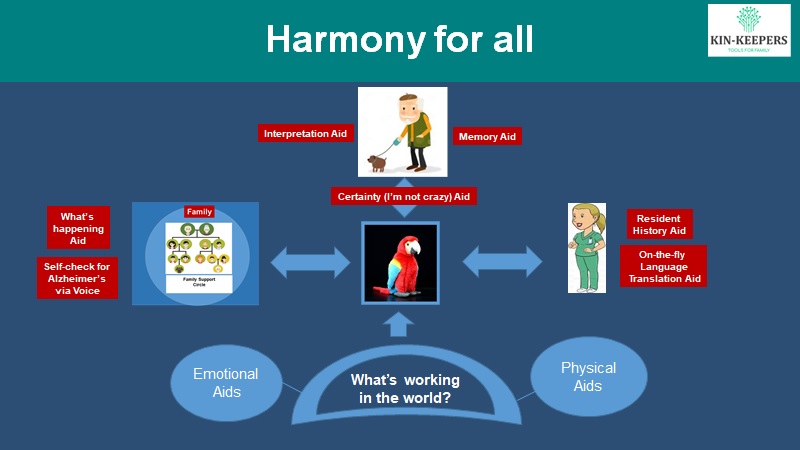 A peek at our Progress
Ends the confusion and frustration of being misunderstood. Our Parrots give elders feedback, and assurance that what they are saying can be understood.  The magic comes from sophisticated Machine Learning algorithms along with contextual sensors that can pinpoint intent.
Families also get to analyze their voices for the probability of inheriting AD.
Smart Parrots can listen to voice sounds for biomarkers that alert the clan to medical conditions.
What's that name? - A tool that remembers things. The elder can ask the name of a grandchild, remember their birthday, and even initiate online calls.
Our Smart Parrots is used as a sophisticated software adviser that helps Mom with her memory.  It knows everyone in the Family Tree.
Caregivers use the service too. They can ask for the history of those under their care.
From the Family side:  It allows children to send the news to Grandma, and keep up with how well she is doing.
Reminiscence - By way of the family tree, Kin-Keepers, store and make available fond moments for elders. A picture brings back a memory; a scent rekindles the past.
Music -  Family Kin-Keepers can create playlists that are then downloaded and played through the smart Parrot.  The PET senses mood and learns through trial and error what works.
Sleep - Disrupted circadian rhythms accompany old age. We use non-invasive 40 Hz. sounds to soothe minds. Light and sound combined seem to magnify the brain effects in the prefrontal cortex, a key area for planning and executing tasks.
P.E.T. - Place, Experience, Time - People with Dementias even Alzheimer's need not be alone. Parrots can be connected with other Parrots around the world. And even with cognitive impairment, new friendships can be born.
Additionally, connected Parrots learn from each other - how to be better, smarter PETs for owners and families.
In the following video, see how we enable our Smart Parrot, called Jarvis, to understand and respond to elder commands. In particular, it interacts with its Family Circle to answer questions not recalled by a forgetful mind.
Next Steps...
Learn how our Parrots work with Sundowning in this brief video.