The former head teacher was one of a group of residents at an elderly care home in Bournemouth, England who recently took part in a half-year academic experiment designed to test if artificial intelligence voice technologies could help tackle loneliness. He was a fast convert.
"I was so surprised... it was such fun!" he says, explaining that several months later he remains an active user of his Google Home device. He asks the speaker for news and weather updates, music and audio book tips and crossword puzzle clues. He sometimes asks it to tell him a joke. "It keeps me sane, really, because it's a very lonely life when you lose your partner after 64 years, and you spend a lot of time in your room alone."
Loneliness is a global problem, which scientists believe can be as bad for your health as smoking 15 cigarettes a day or being severely overweight. Young people as well as the elderly are at risk, and there are concerns that coronavirus-related lockdowns in cities around the world and self-isolation guidelines for those older than 70 will exacerbate the problem.
"Because humans are social beings, most people find not being able to engage in social interactions a negative experience," says Professor Arlene Astell, a psychologist at the University of Reading. She worked on the smart speaker experiment in Bournemouth, and says all of the participants at the care home "took to it really well".
In the current climate, in which billions of pensioners around the world are in social isolation due to the risk of spreading coronavirus, Astell believes smart speakers could prove to be an increasingly useful tool.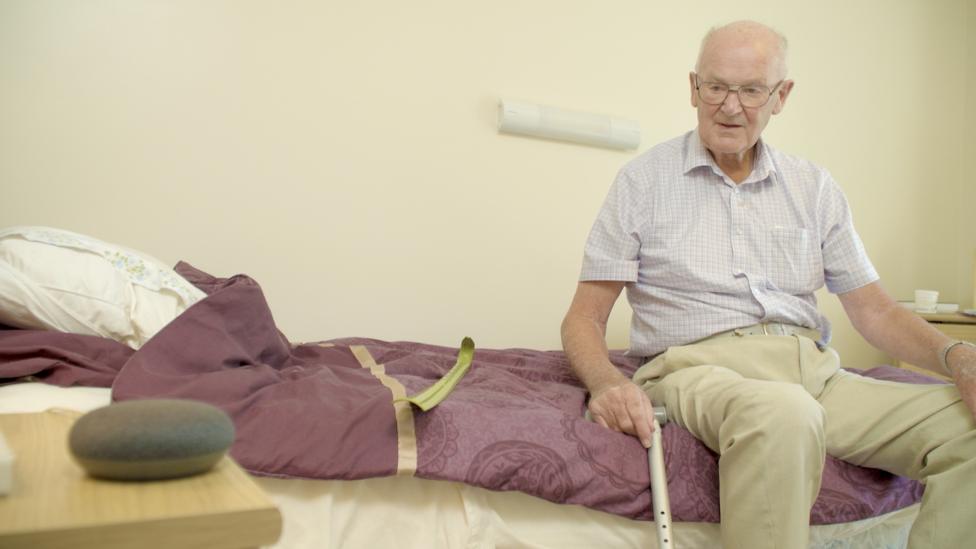 92-year-old John Winward in Bournemouth, England participated in an experiment testing how smart speakers could tackle loneliness. (Credit: Abbeyfield Society)
This is because unlike phone and video calls, texts and emails – which remain highly recommended ways of keeping in touch during the coronavirus outbreak – smart speakers guarantee an immediate opportunity to connect with a voice, no matter what time of day or night.
"Something as simple as being able to have a conversation, be able to interact when you want to, can actually be helpful for keeping you positive," says Astell.
She says that voice-activated devices, therefore, help provide a "sense of control" which "could also be helpful in this time of uncertainty".
A substitute for human contact?
The AI project in Bournemouth has also received a cautious welcome from the UK's largest mental health charity, Mind.
"We know that feeling lonely can contribute to poor mental health," says head of information Stephen Buckley. "If this is caused by a lack of social contact with others, an AI service might be helpful, particularly for those of us who are unable to make new social connections or need to stay in social isolation."
However, he warns that "it's important that it doesn't become a substitute for human contact" in the longer term.
Mind's advice for those who feel lonely on a regular basis includes seeking out support from befriender services run by charities and opening up to existing friends or relatives about their feelings.
Coronavirus-related lockdowns in cities around the world and self-isolation guidelines for those older than 70 will exacerbate the loneliness problem
Technical teething problems
Champions of AI tools like smart speakers recognise that although some elderly people are fast-adopters, it will be a challenge to increase their use more widely.
"A lot of people – they don't like new technology. They can't cope with it," argues John Winward at his elderly home in Bournemouth.
He says that even among the group of tech-savvy residents who joined his smart speaker experiment, few "shared the same level of enthusiasm" as he did.
"People who are less frequent users of current technology might need some additional convincing to take the first step to try the voice-activated technology," agrees Astell.
However, she says her research into artificial intelligence and other technologies such as tablets and virtual reality has shown that the main barrier is a lack of awareness.
'Something as simple as being able to have a conversation, be able to interact when you want to, can actually be helpful for keeping you positive' – Arlene Astell
"I think the obstacle is that these things are seen as products you can buy. And so nobody's really considered. Should we provide them?"
She argues that governments and healthcare providers could think about subsidising tablets and smart speakers in a similar way to how many countries handle medical prescriptions. This would help shift them away from being viewed as "luxury products" to essential everyday items that could play a major role in boosting the mental health of the world's rapidly aging population.
A trip down memory lane
Various other high-tech projects are also testing the limits of AI as a potential tool to foster a sense of companionship for the planet's older residents.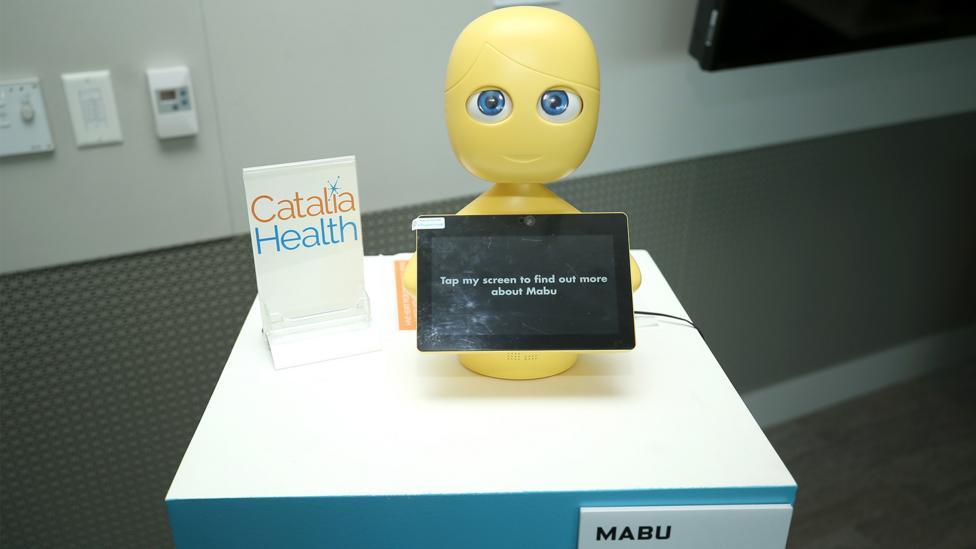 Mabu, a doll-sized robot, can create tailored conversations according to the patients' unique circumstances. (Credit: Getty Images)
In the US, a doll-sized robot called
Mabu
 is being used as a virtual care assistant. It can check in on pensioners' wellbeing, whether or not they have taken their medicine and even suggest if the weather is good enough for them to take a stroll outside. In Japan and other parts of Asia, a robot called 
Dinsow
 plays a similar role. It has a tablet for a face, allowing users to watch videos and read instructions, while family members can also automatically dial in for video calls.
Sweden – where more than half of all households are made up of just one person (the highest proportion in Europe) – has started trialling a voice assistant smart speaker designed to drive a meaningful conversation about users' strongest memories as a way of tackling loneliness.
Participants are asked to discuss topics including their biggest loves and travel experiences, with the speakers responding with relevant follow-up questions.
For instance, when one 78-year-old began sharing that he had lived and travelled all over the world, he was asked: "Was is the difference between relationships in Sweden and those in other countries you have been to?". He responded that Swedes are "very individualistic characters and have a very strong focus on our independence," and noted that was one of the hardest aspects of Swedish life for him.
"It was surprising to see that they were really glad to share their stories – whether it was a voice assistant or a recorder or whatever. That came naturally," says Thomas Gibson from Stockholm Exergi, an energy provider in the Swedish capital which is co-funding the pilot, called Memory Lane.
The company hopes that the concept can also go some way toward "tackling ageism and social inclusion" by making podcasts of some of the conversations available to younger Stockholmers. "A lot of people are interested to hear their life stories," says Gibson.
Data privacy
Claire Ingram Bogusz, a postdoctoral researcher at Gothenburg University, who specialises in how new technologies impact the way we live, agrees that projects like Memory Lane could prove to be a useful new tool for recording personal histories, while also giving the elderly increased opportunities to communicate.
However, she warns that companies testing these sorts of technologies need to ensure they have a strong grip on what happens to the data.
"The stories that these people are telling are their life stories – intensely personal. Like with any personal data, there needs to be clarity around who is responsible for it, how they will protect it and what they will do with it."
Those working on the Memory Lane project argue that they are prioritising user safety by using local service servers and encrypted servers. "Nothing is in the Cloud. There is no sharing of third-party data from our side," says Thomas Gibson.
The Google Home smart speakers used in both Memory Lane and the project in Bournemouth have hit the headlines recently amid debate about how the tech giant uses the data collected. But the company has insisted it does not sell information to third parties.
"I've got nothing, absolutely nothing that I would want to hide," reflects John Winward when asked if he has any concerns about the conversations he's had with his smart speaker. "As long as they don't interfere with my bank balance and things like that, I'm happy!"
Social reconnections
As research into the benefits of using voice assistants and other technologies to help lonely pensioners continues, there are hopes that the coronavirus crisis itself – which has highlighted the vulnerability of many elderly people – may bring something of a silver lining when it comes to future societal efforts to tackle social isolation.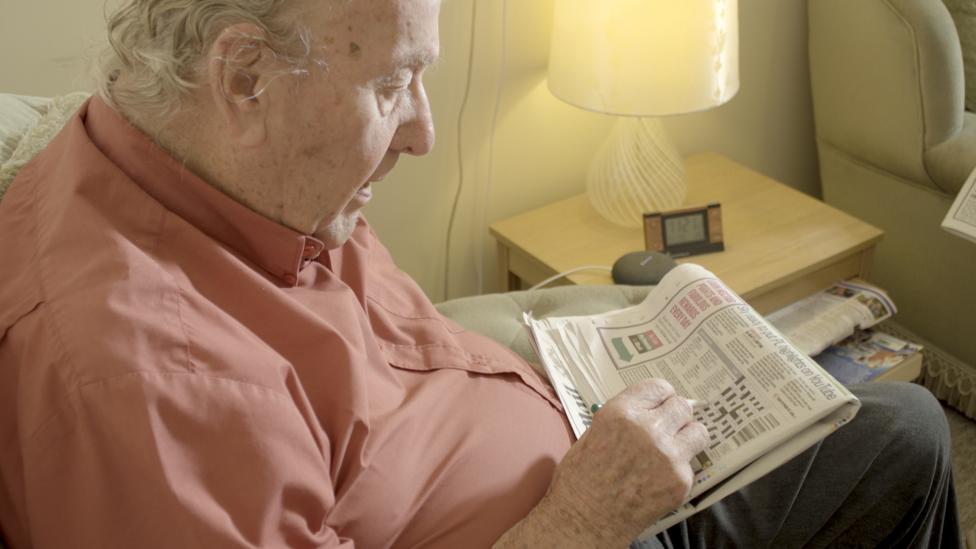 The elderly are at high risk of having loneliness problems, which scientists believe can manifest in excessive cigarette smoking or obesity. (Credit: Abbeyfield Society)
Numerous community support initiatives have sprung up around the world in recent weeks including from 1,300 New Yorkers delivering groceries and medicines to elderly and vulnerable people in 72 hours; and Facebook groups like Community Helps in the UK, which allows children and grandchildren who live in different areas to their older relatives, to source local volunteers to run errands or provide a friendly phone call.
"Hopefully it will encourage people to really get to know their neighbourhood, carry on interacting with people, not just in a time of crisis," says Astell. "But I think it also highlights some of the gaps that we've had in our knowledge of our communities these days: who our neighbours are and what their needs are."
Meanwhile she says the coronavirus pandemic has further emphasised the need to educate older people about how to make the most of digital communication tools such as voice-activated assistants and video calls and social media community groups. "Some of these online projects, it would be really helpful if older people could access them as well, and they could say what it is they would like."
John Winward in Bournemouth says he's also hoping people will find more ways to keep in touch with the elderly "in good times" once the crisis settles down. But even with more social interactions and phone calls, Windward still wouldn't give up his cherished smart speaker.
"I really love it. I couldn't do without it now. It is certainly my friend in the corner."