Caring for a senior family member or loved one comes with a lot of questions. Day-to-day tasks that many people take for granted can become a challenge as we age, and that includes showering.
As a caregiver, you might wonder how to bathe an elderly person. It can be an awkward situation for everyone. But if you know what to do in advance, you can go in feeling confident, which helps put both you and your loved one at ease.
How Often Should An Elderly Person Bathe?
Most adults shower daily, but with an older adult, full showers aren't necessary that often. As we age, we often become less active, which means we don't require daily baths.
In general, older adults should fully bathe at least once or twice per week. Beyond that, they may use sink showers, which tend to allow for a little more independence.
How To Give An Elderly Person A Bath
Bathing an elderly person is a bit of a misnomer since you won't always require a bathtub. A shower may be easier to step into with help. And a chair or bench provides support for the older adult.
The process itself is pretty straightforward. But as we've mentioned, it can be uncomfortable. We'll walk you through each step, so you avoid as much embarrassment as possible.
Before You Begin 
Before you turn on the water or start gathering supplies, there are a couple of things to keep in mind. Remember that the older adult you're caring for may need a lot of assistance or may need hardly any. 
For some, it's just a matter of helping them step over and into the shower basin. From there, handrails and a shower chair or bench will provide enough assistance. Others need more help.
But remember, even if the person you're caring for needs a lot of assistance, give them as much independence as possible. Even if it's simple as undoing a button or removing a ring, let them do it themselves when and where you can.
As a caregiver, you should also try to be relaxed and patient. Bathing an elderly person can be uncomfortable, especially if it's an older family member of the opposite sex. But your nervous energy will only make things more awkward for both of you.
Finally, if you're caring for someone who has dementia, keep in mind that they may forget how to take a shower. They may also fear water and their internal sense of temperature may be off. You'll need to take special care in those cases.
With all of that in mind, let's move on to step one.
Step One: Gather Supplies
First things first: gather all your supplies. This is more important than you may realize. It can be very uncomfortable if you begin the bathing process only to realize you forgot soap or a towel!
When bathing an older adult, you'll need:
Soft washcloths or sponges
Towels
Liquid or bar soap
Tearless shampoo or no-rinse shampoo
Handheld showerhead, preferably with an extra-long hose
Bath Robe, preferably terry cloth
Depending on the mobility of the person, you may also need a shower chair or bench. Once you have everything ready, move on to the next step.
Step Two: Get Ready for the Shower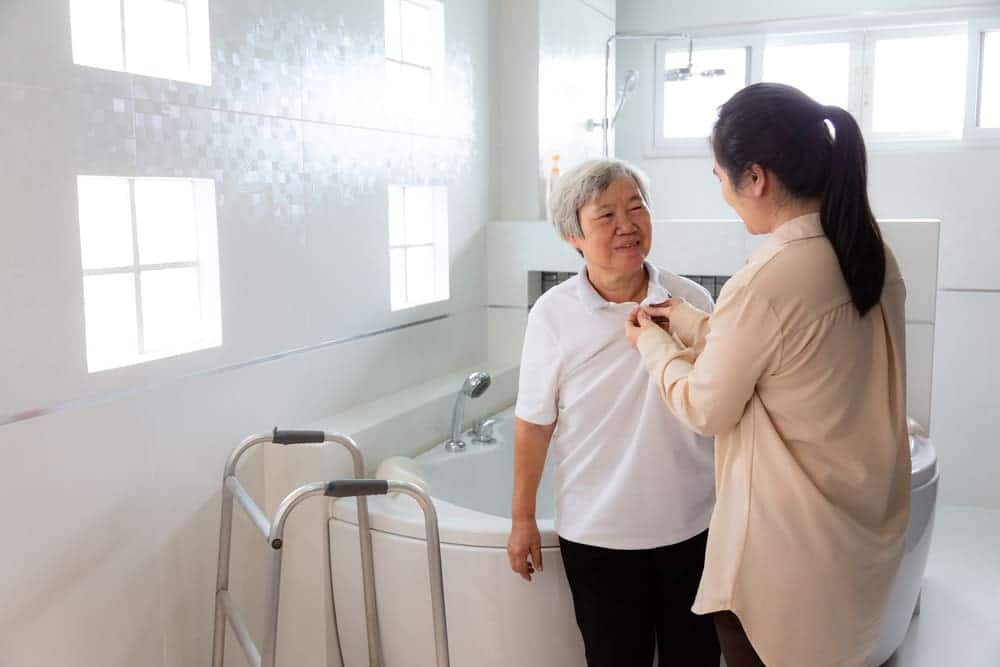 Now that you have everything ready, you can begin by helping your loved one undress. Offer them the robe right away so that they have privacy and respect. We recommend the terrycloth robe because it will also help with drying after the shower.
Next, if using a shower chair or bench, make sure it's stable in the shower. Help the older person into the shower and onto the chair or bench as needed. Then, allow them to remove the robe themselves if possible.
Step Three: Helping with the Shower
Using your removable shower head, test the water temperature on the back of your hand first.
Next, add soap to the washcloth or sponge and hand it to them. Allow them to wash themselves as much as possible. If needed, you can gently recommend that they start in cleaner areas like their face, arms, and torso.
You'll likely have to help with their back, and more challenging to reach areas like calves and feet. Have them finish with their groin area, again allowing them to do as much as possible independently.
It's essential to watch for signs of redness, rashes, or other skin irritations as you help. This is especially crucial in areas where the skin overlaps. Beneath their breasts or in the folds of their stomach, rashes and irritation can easily occur.
Don't rub or scrub these areas; it will only make things worse. But if anything looks concerning, you may want to note it to them or their doctor.
Once their body is clean, you'll likely have to help them wash their hair. It's tough to reach up and overhead as we age! Be sure to use a tear-free shampoo, as noted above, and be as gentle as possible.
Finally, hand them the shower nozzle so they can rinse off. If they're unable to hold the nozzle, you may need to help.
Hand them a towel so they can dry themselves off as much as possible. Then offer to assist with hard-to-reach places, like their back, and between their toes.
You can offer them lotion at the end to help with dry skin. And you'll likely need to help them put it on. But avoid any naturally moist areas like the groin and or under their breasts.
Then, help them get dressed as needed, and you're done!
What Helps An Elderly Person Bathe
We've covered how to bathe an elderly person and touched briefly on the tools you'll need. But if you're unfamiliar with shower chairs or considering a bathroom update to accommodate an aging relative, it might be helpful to learn a little more about the specifics.
So, let's zoom in on a few helpful tools for caregivers of the elderly.
Shower Chair
A shower chair dramatically reduces the risk of a slip and fall because you're seated rather than standing on slippery porcelain or tile. That's why a shower chair is a great idea, even if the person you're caring for is mostly independent.
The ideal shower chair needs a stable base and drainage holes to keep the seat from becoming slippery. Many have handles in the seat too, which can help the person seated to stabilize.
Some chairs come in designs that fit curved tub bottoms. Others only work on flat shower floors. Be sure to pick one that works with your bathroom setup.
Most shower chairs have a back, but not all. Backs are helpful for many older adults, but you may decide you prefer a bench design instead.
And, keep in mind that some, but not all, shower chairs disassemble for easy storage. If you're sharing a bathroom with the rest of the family, easy storage for the shower chair might be especially important.
Bath Lift
In some cases, a shower chair may not provide enough support. A bath lift may be more helpful.
Bath lifts or lift chairs are mechanical medical devices that attach to your current bathtub. They will lift the person you're caring for into the tub and lower them into the water. This minimizes any risk of falling and allows for a bath even if the person cannot stand or step into a shower.
Many bath lifts work at the touch of one button or via a hand-held remote. That means the person you're caring for may not need to rely on you as much for help with baths.
Finding a bath lift that works for your bathtub isn't typically hard. There are several different models with varying features and installation methods. You can even disassemble some easily between uses if you're sharing the bathroom with other family members.
Transfer Bench
A transfer bench is somewhere in between a shower chair and a full bath lift. It attaches to your existing bathtub and allows older adults to shower without having to step over the rim of the tub.
The person who needs help sits on the outer portion of the bench. Then straddles the rim of the tub with their legs. Slowly and with assistance, if required, they slide to the chair within the tub. From there, the transfer bench functions just like the shower chair we mentioned above.
Some transfer benches have sliding frames so that the user doesn't have to physically scootch from one side of the bench to the other. Instead, the seat is on rails so you can gently push it from outside to inside the tub.
Conclusion 
Bathing an older adult, especially an older loved one, can be intimidating. As a caregiver, you want to help, but bathing someone is admittedly uncomfortable. You don't want the person you're caring for to feel a loss of dignity or respect.
By learning how to bathe an elderly person, you can alleviate some of the discomforts around the process. That way, you can more easily help your loved ones look and feel their best!